Our Team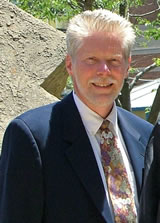 Jack Leonard, RLA, ASLA, LEED AP is the Principal of JGL Design Associates. He possesses a broad base of experience and skills in landscape architecture, engineering and business. Jack is a registered landscape architect, LEED Accredited Professional and licensed plant broker in Maryland; has a degree in civil engineering (BE); an MBA in marketing; a Masters Degree in Landscape Architecture (MLA); and is completing a program in environmental studies. Jack is also an Adjunct Assistant Professor and Lecturer in the Landscape Architecture Program at the University of Maryland, College Park and Morgan State University's School of Architecture and Planning.
The JGL Design team comprises dedicated professionals who possess the technical skills, creativity, enthusiasm, and experience to grow the visions of our clients.
Comprehensive Background
JGL Design has completed master plans and designs for a broad range of residential, institutional, and commercial properties. These projects are located in urban, suburban and rural settings, including country estates and city townhomes. Our planning background includes developing comprehensive master plans for communities new and old. Our background and experience in landscape architecture and site engineering includes:
site analysis and master planning
community planning and design
detail site design and construction documentation
gardens and landscapes (planting, lighting, features & irrigation)
project management and construction administration
Creativity from Technical Excellence
JGL Design creates places that are unique to each client and site. Our approach maximizes the functional use of a property by sensitively integrating its built and natural features. We are able to develop these creative designs because our staff has a strong base of the technical skills necessary to provide expert and comprehensive solutions to complex design programs and problems. These skills include:
site grading and infrastructure
storm water best management practices
sediment and erosion control
landscape structures and materials
plant material
construction processes and techniques
Our team background includes landscape architecture, garden design, engineering, horticulture, and project management.
Implementation of the Project
The JGL team has managed the implementation of projects from multi-million dollar design and construction projects to small-scale residential garden designs. Our extensive project management experience includes:
project planning and budgeting
scheduling
construction administration and oversight
performance measurement and assessment
Design by Consensus
JGL Design has a long history of building community consensus by integrating the concerns of community members, business owners, and government agencies. As a member of policy committees with various agencies and community organizations, our firm has been instrumental in establishing planning and development policy.